GNU 30th anniversary - GNU Project - Free Software Foundation
http://www.gnu.org/gnu30/gnu30.html
" onclick="window.open(this.href);return false;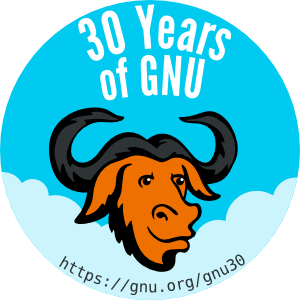 Free Software Foundation
https://www.fsf.org/
" onclick="window.open(this.href);return false;
GNU-a-Day
Celebrate GNU's 30th anniversary with GNU-a-Day, 30 software freedom actions you can take in the month of September.
Celebration and Hackathon
September 28 and 29 at MIT in Cambridge, Massachusetts
Join us to celebrate the GNU Project's world-altering accomplishments with cake and coding. The 30th anniversary hackathon will focus on important needs for free software in today's Web-based world. Featuring remarks from GNU founder Richard Stallman.